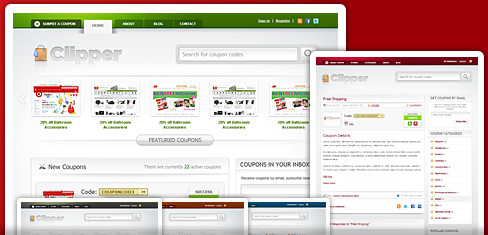 Clipper 1.5.1 newest version : Released on March 10th, 2014.
Clipper is a powerful WordPress coupon theme. Easy to setup & monetize your website. Trusted by thousands.
Setup your own mega-savings coupon site and start monetizing your traffic! Our feature-rich theme was designed for ease-of-use and tight integration with WordPress so you'll be online and providing coupons within minutes.
With thousands of AppThemes customers and a very active community, you can trust that Clipper is here to stay. To learn more about our features, continue reading below.
Custom Write Panel

Editing coupons from the admin area is a breeze with our custom write panel. All custom fields and taxonomies are neatly organized and labeled in a single panel.

Monetize Your Coupon Site

Clipper now includes our popular payment system so in addition to making income on affiliate referrals, you can charge visitors to list coupons on your site. PayPal and bank transfer modules are included. Additional payment plugins are available in our Marketplace.

Color Schemes & Layouts

Choose from five different color schemes. You can also upload your own logo which makes it easy to brand your site.

Advanced Link Cloaking & Tracking

Affiliate links are unsightly and can deter your visitors from clicking them. Fortunately, Clipper automatically hides your coupon and store affiliate links. Not only that, Clipper tracks key metrics like page views, clicks, & click thru rates (CTRs).

Dedicated Store & Category Pages

Clipper includes two additional page templates which automatically update and display your entire list of stores and categories. It's a great way to allow your visitors to browse. It also helps Google easily index your content.

Custom Email Templates

Take total control of your customer communication by composing your own custom email templates.

Submit Coupon Form

It's easy to start listing coupons on your site. The coupon form can require visitors to register first or keep it open for everyone to submit coupons. It also includes an optional built-in ReCaptcha challenge box to deter spam.

Coupon Stores

Setup unlimited coupon stores and populate them with all the coupons you want. Each store is it's own page which includes a description, url, and web site screenshot which is automatically generated.

Advertising Support

Our themes include several advertising spots which allows you to easily make extra income from your site. It's great for Google AdSense or affiliate banners. Just paste in your code.

Customer Coupon Management

Your customers get their own personalized dashboard where they can view and manage their coupons. It also provides them with real-time stats so they see how popular their coupons are.

Statistical System

Knowing which coupons and blog posts are the most popular is important. We've built a stat system to keep track of how many daily and total views each coupon and blog post has received.

AppThemes API

Our API enables developers to customize functionality without having to modify the theme code. It uses action and filter hooks that work the same exact way native WordPress core hooks do. This makes it a breeze to build on top our themes.

Report a Problem System

Allow your site visitors to report problems on any coupon by selecting from a list of pre-defined values (customizable by you). Within each coupon edit panel, you'll be able to see every single problem reported in a neatly organized table.

Importing Tool

It's easy to import your coupons from other systems. Heck, we even provide you with a sample .csv file. Our advanced importer works for any post types and custom fields. Just map out the columns in your .csv and import.

Subscribe to Coupons via Email

The money is in the list, right? Clipper includes a subscription sidebar widget which supports a number of email auto-responder systems such as MailChimp, Aweber, Constant Contact, Vertical Response, and more.
Multiple Color Schemes
Widget-Enabled Sidebars
API Extensibility
Admin Dashboard
Easy-to-Use Option Pages
Themed Login & Signup Pages
Custom Post Type & Taxonomies
Google Analytics
Dedicated Blog
Feedburner Support
Twitter Support
Facebook Support
ShareThis Support
Category & Sitewide RSS Feeds
Search Engine Optimized (SEO)
Upload a Custom Logo
Multi-Language Support
Multiple Currency Support
Regional Date & Time Format
Image Upload Support
Advanced Security
Email Alert Engine
Open Source Code
Tight WordPress Integration
XHTML & WC3 Valid
Clean & Well Commented Code
Child Theme Support
Multisite Enabled
Unlimited Web Sites
Instant Download
Transferable License
PayPal Gateway
WordPress 3.5+ Support
Multiple Gateways
Mobile Device Support